Mnemonic Security, Inc(Development and sales of security software)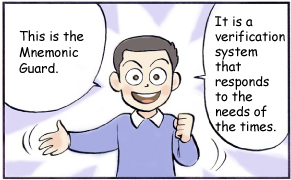 From Osaka to the world standard
Passwords that anyone can remember are easily guessed by other people or by cracking techniques. On the other hand, complicated passwords, which others have more difficulty guessing or cracking, are harder to remember, and are typically written down to keep at hand or re-used for multiple accounts. We provide exceptional ease-of-use coupled with virtually uncrackable security by using 'Sequenced Pass-Symbols' for a security solution that users should never forget and that crackers should never defeat. The principal innovation of Mnemonic Guard is that it fully utilizes the persistent nature of long-term memory that had been acquired many years ago.
---
Mnemonic Guard allows repeated mistakes that authorized users are likely to make.

Mnemonic Guard is based on the mind's ability to use long-term visual memories.

Mnemonic Guard shows the phisher-repellent effect.
---
Mnemonic Security, Inc(Development and sales of security software)"
Contact